Phillips & Schmitt DDS, PA Participates in the "Give Back a Smile" Program
Posted on Apr 3, 2015, by Grace Rizza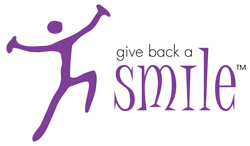 We are excited to announce that we have donated a total of $2,000 to the Give Back a Smile Charity for abused victims. Thank you to all of our patients who took part in this contribution!
Phillips & Schmitt DDS, PA is an active participant in the "Give Back a Smile" program, which is sponsored by the American Academy of Cosmetic Dentistry Charitable Foundation (AACDCF). This life-changing program rebuilds the smiles and lives of adults who have suffered dental injuries from domestic and sexual violence, through compassionate cosmetic dental services and support programs.
The Give Back a Smile program has helped more than 1,400 individuals since its inception in 1999. American Academy of Cosmetic Dentistry members, dental laboratories and other dental professionals have volunteered their time and expertise pro bono, to help restore the smiles of survivors of domestic violence.
You Can Get a Whiter Smile and Help Domestic Violence Survivors!
With 100% of your whitening cost being donated to the foundation, now is a great time to give back. Dr. Douglas Phillips and Dr. Donald Schmitt can give you a beautiful smile, while also donating to a great charity. Take part in this great cause today!
Other ways to donate to the Give Back a Smile program include:
• Hold a local fundraiser to benefit GBAS
• Work with the AACDCF to obtain a corporate sponsor for GBAS
• Make a monetary donation
• Place your bids at the AACDCF Silent Auction
• Donate items to the Annual AACDCF Silent Auction
Contact us for more information on the Give Back a Smile program and our Asheville dentists.