"Holiday Smiles" Drive to Benefit Salvation Army
Posted on Nov 26, 2012, by Phillips & Schmitt, DDS, PA
We're exited to announce our partnership with Parkers' Karat Patch to benefit underprivileged children through the Salvation Army of Asheville. We welcome patients and the general public to participate in one or both of the following drives:
Pearls and Toys for Girls and Boys: From Dec. 1-10, bring a new, unwrapped toy valued at $10 or more to our office and receive a FREE freshwater pearl bracelet from Parkers' Karat Patch. Want a set? Take another toy worth $10 or more to Parkers' Karat Patch (311 Weaverville Hwy.) and receive a matching necklace!
Be an Angel…Adopt an Angel: Adopt an angel from our Christmas tree, then purchase clothing and other gifts for the child listed. Return the items unwrapped to our office by December 10.
Thank you for helping us make the holidays brighter for children in our area!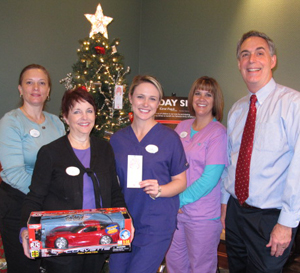 —–
Phillips & Schmitt, DDS, PA
1111 Hendersonville Rd
Asheville, NC 28803
Phone: (828) 254-1944
URL of Map