Dentist in Asheville, Dr. Phillips, attends ICOI Summer Prosthetic Symposium
Posted on Sep 18, 2014, by Grace Rizza
International Congress of Oral Implantology | Summer Prosthetic Symposium
August 21-23, 2014 | Continuing Education | Chicago, IL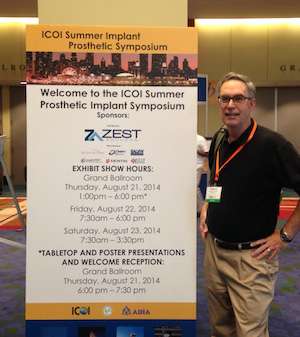 Your Asheville dentist, Dr. Phillips, is committed to helping you and your dental needs by continuing his education.
Last month, Dr. Phillips attended the biannual meeting of the ICOI in Chicago, IL. The topic of the meeting was Dental Implant Failures. Speakers from around the world discussed techniques to prevent and treat dental implant failures.
Dr. Phillips is a Fellow of the ICOI and uses dental implants as a means to replace missing teeth for patients who want confident and secure smile.
Click here to learn more about Dr. Phillips or contact his office.
—–
Phillips & Schmitt, DDS, PA
1111 Hendersonville Rd
Asheville, NC 28803
Phone: (828) 254-1944
URL of Map