Asheville Dentist, Dr. Phillips, attends Spear Education Annual Summit
Posted on Sep 18, 2014, by Grace Rizza
Spear Education Faculty Club Annual Summit 2014
September 4-6, 2014 | Continuing Education | Scottsdale, Arizona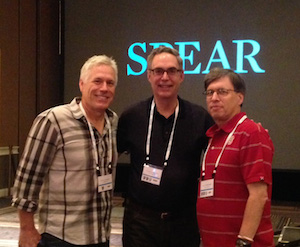 Dr. Douglas Phillips (center) attended the meeting with Dr. Jeffrey Roeder (left) from Asheville, NC and Dr. Alex Greenwald (right) from New York, NY.
This is an annual meeting for members of the Spear Education Faculty Club and approximately 900 dental professionals from many countries attended. The Summit discusses the current state of the art dental techniques for helping patients regain confidence in their smiles and improve their oral health. The topic for the meeting was Passion, Community, Inspiration–Reshaping Clinical Realities. Dr. Phillips was able to see presentations from some of the top dentists in the world during the meeting.
Dr. Phillips is a member of the Spear Faculty Club, a visiting faculty member at Spear Education, and is a leader in two Spear Study Clubs in the Asheville, NC area.
To learn more about Dr. Phillips, visit his website or contact his office.
—–
Phillips & Schmitt, DDS, PA
1111 Hendersonville Rd
Asheville, NC 28803
Phone: (828) 254-1944
URL of Map